These eight canines work untiringly hard at their tasks, whether it's making sick and unfriendly people smile, or helping a person run a marathon. Canines are man's best friend and they are unsung heroes.
Keep reading to understand more about these exciting hard-working dogs.
1. Panzer
Panzer helps his master, Brad, an army veteran to overcome PTSD or post-traumatic stress disorder. Veterans can now opt for "K9s for Warriors" program where a trained service animal would help them deal with combat-related or PTSD disorders.
As per reports, veterans have to take part in a unique three-week training program. They should take part in the program with their dog.
They train these dogs to manage personal space for these veterans who become anxious seeing large crowds.
The canines develop a bond and they know when something is wrong.
2. Frida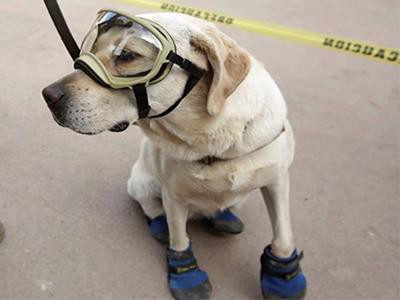 Around 350-400 people died when a powerful earthquake measuring 7.1 magnitudes shook central Mexico in 2017.
Many search and rescue experts were there on duty that day, including the amazing rescue canine Frida.
Frida saved a lot of lives by sniffing through debris and locating people trapped underneath.
Frida rescued around a dozen lives that day. The people have erected a special statue in Frida's honor.
3. Tino
Tino, a newly trained rescue dog was called in for a mission. An eleven-year-old dog went missing in the woods. By the time, Tino was pressed into action, the puppy was gone for around 40 hours.
Tino tracked the lost puppy within a short time and he had been accidentally trapped in cold slush.
4. Kirby
Kirby remains one of the best therapy dogs to visit city hospital patients and help them handle their hardest times.
The PAT service at Torrance Memorial in LA was commissioned in 1990.
To become a certified therapy canine, the dog must complete-
Thirteen hours of practice shifts and training
Attend an orientation program
Provide vet details
Perform many test runs
Attend and pass obedience training
It's more than getting a job at a leading tech company.
5. Maverick
The Stipes took one of the hardest decision in their life when they decided to remove their Charlie's eyes because of severe glaucoma attack.
Luckily, Maverick, the new pup helps Charlie eat, play, and walk. This pair is more famous on the social media site, Instagram, with 179,000 followers.
6. Molly
Courtroom canines are a new concept. Two black Labs are now part of a special canine unit. These canines are working in an attorney's office in the San Bernadino, California.
The dog's main function is to "make the person feel comfortable, and also reduce fear."
7. Max II
Max II became the dog mayor of Idyllwild, after his predecessor, Max, passed away due to old age.
It was nominated when he was hardly two months of age. He will now remain the Mayor until nature snatches him away.
8. Gus, Waffle, Westley
Three canines guided Panek become the world's first blind person to finish the NYC half marathon in 2019.
Panek completed the marathon with the guidance from these dogs. These dogs wore special running shoes.
His lifetime companion, Gus, helped Panek complete the race.