Can Dogs Eat Raw Meat? It is best advised that dogs should not be fed with raw meat.
Why Should Dogs Avoid Raw Meat?
As per reports from AVMA (American Veterinary Medical Association) undercooked and raw meat contains lots of pathogens and bacteria including listeria and salmonella.
So, AVMA does not recommend raw meat products. Use only commercial raw foods that are prepared using high-pressure pasteurization.
Use only high-quality raw meats for feeding and those that look and smell fresh. Store the meat in a frozen condition and make sure the place is clean and safe.
As long as the raw meat meets the dog's nutritional requirement, dogs can be fed with raw meat.
More than 50% – 75% of a dog's diet must contain animal protein and a pup's diet must contain at least 60% animal fats.
The Health Benefits Of Raw Foods (meat)
Helps dogs with diabetes and arthritis
Improves energy levels
Helps to maintain lean mass and normal weight
Less smell and less stool
Better digestion
Healthy coat and skin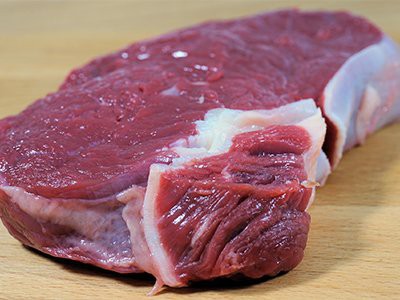 How To Reduce The Risk Of Raw Meat?
Whether you choose homemade or pre-prepared food, the quality of the food determines the extent of risk.
According to experts, it's important to feed the best high-quality meats in case if you choose a good raw diet. Also, dog owners must buy meats that look and smell fresh.
One of the best ways to acquire top-quality meat is to create a friendly relationship with the local butcher.
Can Dogs Eat Raw Meat? Safety Precautions Advocated By FDA
The FDA recommends against giving raw meats, but if you wish to do so, you better freeze your meat and maintain it in a frozen state.
Another key point, keep the raw meat separate from already cooked food.
Overall, before feeding your dog with raw meat contact your vet for a suggestion.
Homemade Raw Meat Recipe For Dogs
Ingredients
2 ½ pounds of ground beef
4 ounces of chicken liver
1 chopped carrot
1 small apple, cored
½ cup of baby spinach
2 eggs
½ cup of plain yogurt
1 tsp ground flaxseed
1 tsp of olive oil
Instruction
In a food processor add carrot, spinach, apple, and process until finely chopped.
Keep the mixture in a bowl and add ground beef and mix it well.
Make it into patties and place on a parchment-lined baking sheet.
Freeze it until solid, and then transfer into a storage container.
Serve your dogs with a delicious treat.
Why Raw Meat Is Unsafe For Both Owners And Their Dogs?
Feeding dogs raw meat diets indicate severe health risk for the family who shares a room with them, a group of scientists has finally revealed.
At present, these dog foods are sold and marketed under the popular acronym, BARF or Biologically Appropriate Raw Food.
These bacteria affect both dogs and people who own dogs.
A research study published in The Netherlands provided details about 35 BARF dog food packs.
The team discovered Salmonella in 20%, Listeria species in 43%, and Escherichia coli in 80%.
In early 2019, the American Food Department analyzed three cases. They came to the conclusion that the main source of the contamination was raw meat.
In one of the studies published in VetRecord, the Swedish University of Agricultural Sciences analyzed five dozen BARF packs. They were all from 10 different companies.
The results are given here
Bacteria from the Enterobacteriaceae were present in more numbers than the prescribed limits laid down by the EU.
The researchers also found campylobacter and salmonella species were in 5% and 7% food samples respectively.
Researchers warn of health risks to humans and animals for immuno-compromised individuals.
The study also focuses on health tips to control the growth of pathogens in raw animal food. they include
Thaw food in conditions where the temperature is no less than 10 degrees Celsius
Both human food and dog food should be kept separately
Using a different set of utensils and spoons for humans and dogs
Keeping all food frozen until use
Avoid feeding raw food to dogs undergoing antimicrobial medication
Never kiss your pooch on its lips; the most effective method to transfer bacteria to humans after they have actually eaten