Dog Pregnancy Calculator And Timeline
Just outside the very busy Shibuya Station in central Tokyo, Japan, sits a bronze statue of a dog whose name you've probably never heard of — but he is the national symbol of loyalty in Japan. His name is Hachiko. So, who is he? What is the Hachiko story? Let's melt in the heartbreaking true story of Hachiko, the Akita dog.
Date Of Birth: 10 November 1923
Place Of Birth: Odate Japan
Breed: Akita
Owner Of Hachiko: Hidesaburō Ueno
Died: 8 March 1935
Cause Of Death: Terminal Cancer And Filaria Infection
Hachiko, The Faithful Dog
The cream-colored dog used to go along with the professor Ueno to Shibuya rail station where he boarded the train to go to university. He learned to wait for his master's return at the same place at the day's end.
Every evening Hachiko waited at the train station to greet his master.
Until one day in 1925, when the professor never returned. Unbeknownst to Hachiko, the professor had suffered a fatal cerebral hemorrhage and would never come home again.
Hachiko, The Dog Who Waited…
But there …Hachiko sat, day in, day out, unremittingly waiting in vain for the return of his dearly loved master.
Hachiko paid no attention to other people or dogs as he sat there, touching the hearts of the commuters with his faithful but fruitless vigil.
Days passed, then months and years, yet he continued coming, despite everything. Then one morning in 1932, Hirockichi- Hidesaburo's former student saw the dog at the station and that fostered his curiosity. He decided to follow the sad dog to his home.
There he met with the gardener Kuzaboro Kobayashi, Hachiko's new caretaker, and learned about the heart-touching story of loyalty, and so he began to write articles about him in a major Japanese newspaper.

Hachiko came to be celebrated by everyone as "Chuken-Hachikō", which means "Hachiko – the loyal dog."
They built Hachiko a bronze statue opposite Shibuya train station in 1934, with Hachiko himself present as the main guest at the grand inauguration.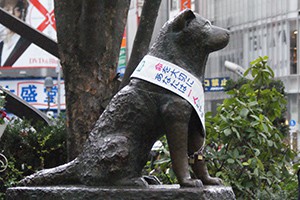 Unfortunately, a year later, on March 8, 1935, Hachiko passed away at the station, still waiting for his master to turn up.
He had a filarial infection and terminal cancer. The whole of Japan was heartbroken and inconsolable on hearing Hachiko's death.
His wait to meet his master was over. His 9 years, 9 months and 15 days despair was over and he met his master finally. He was buried right beside his master at the Aoyama Cemetery in Tokyo.
Hachiko may have died, but his legend- the dog that never gave up, earned worldwide attention.
Throughout the years, inspired by his incredible determination, many people wrote books about Hachiko and his tale of love, and in 2009, director Lasse Hallstrom made a movie called Hachi: A Dog's Tale, starring Richard Gere and Joan Allen.
This really poignant scene from the movie will definitely break you into pieces…
'You old thing, you are still waiting!'   
"There is no faith which has never yet been broken, except that of a truly faithful dog."

"Time is very slow for those who wait, very fast for those who are scared, very long for those who lament, very short for those who celebrate. But for those who love time is eternal"– William Shakespeare

"If you feel sad, I'll be your Smile. If you cry, I'll be your comfort… And if someone breaks your heart, we can use mine to Live. I'll always be by your side!

If you are not too long, I will wait for you all my life" – Oscar wild

"Never Mind, Said Hachiko each day. Here I wait, for my friend who is late.

I will stay, just to walk beside you for one more day." – Jess C. Scott

"You don't know what loyalty is about,
Until you have an Akita to spout.

Loyal and royal, all the way to the end,
Is my audacious Akita, my best friend." – Anonymous

"The only creatures that are evolved enough to convey pure love are dogs and infants." – Johnny Deep

"I will wait as long as it takes no matter how long I will stand strong." – Anonymous

"The dog is the most faithful of animals and would be much esteemed were it not so common. Our Lord God has made His greatest gifts the commonest." – Martin Luther

"To me dogs are not the students, not the ones that need training. To me a dog is a teacher of life, who teaches us the principles of the most important moral values; honesty, integrity, loyalty, trust, respect and love." – Cesar Millan

"I wake up sometimes in the middle of the night and think about Parker. He was a good friend. I understand how you feel. Hachi, my friend, Parker is never coming home. But if Hachiko wants to wait, then Hachiko should wait. You want to wait for him, don't you? Have a long life, Hachi." – Hachiko, A Dog's Story.