Dog Pregnancy Calculator And Timeline
What Can Dogs Eat For Breakfast? Indeed, it is the most frequently asked question asked by the pet owners.
What Can Dogs Eat For Breakfast? - Infographic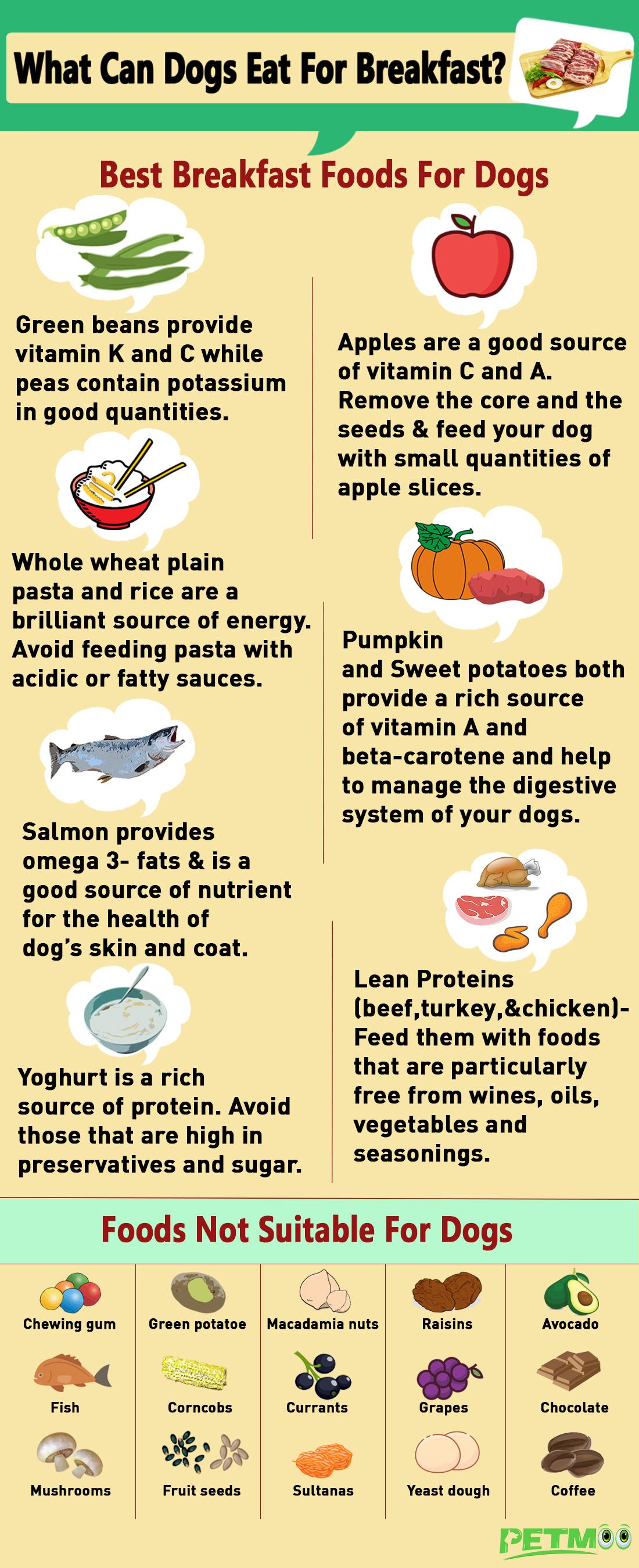 The Foods That Are Best Suited For Dogs To Eat For Breakfast
Green beans and Peas – Green beans provide vitamin K and C while peas contain potassium in good quantities. Both are low-calorie, healthy nutrients.
Apples – Apples provide a nice source of vitamin C and A. Remove the core and the seeds and feed your dog with small quantities of apple slices.
Pasta and rice – Whole wheat and plain pasta are a brilliant source of energy and avoid feeding acidic or fatty sauces.
Sweet potatoes and Pumpkin – They both provide a rich source of vitamin A and beta-carotene and help to manage the digestive system of your dog's.
Salmon – A nice source for the dog's skin and also coat health, providing omega 3- fats.
Lean Proteins – Feed them with foods that are particularly free from wines, oils, and seasonings or vegetables. Lean proteins generally refer to beef, turkey, and chicken
Yogurt – The Greek yogurt act as a rich source of protein. However, avoid those that are high in preservatives and sugar
Peanut Butter – Provides a rich source of fiber and also protein; nevertheless, the ones containing the toxic xylitol must be definitely avoided.
There Are Other Foods Which Dogs Should Not Be Fed
Never feed them with
Xylitol-based products such as peanut butter, toothpaste, baking goods,  lollies, sugar-free made chewing gum,
Fish on a daily basis
Mushrooms
Green unripe potatoes and tomatoes
Corncobs
Fruit seeds
Pits and fruit stones
Macadamia nuts or other nuts
Currants
Sultanas
Raisins
Grapes
Yeast dough
Bread dough
Avocado
Compost or spoiled or moldy foods
Coffee products besides caffeine
Chocolate
Garlic
Onion powder
Onions
Cooked bones can lead to gastrointestinal issues due to their splinter nature.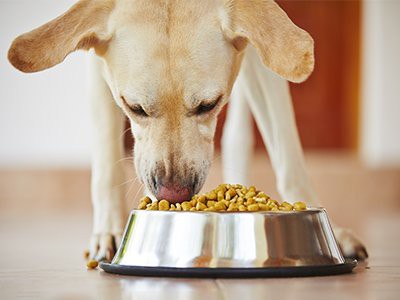 The Best Way To Choose The Ideal Dog Food
But food products that have 'balanced' and complete" mentioned in the packing.
Consider all the health issues your dog might suffer from
Ask the veterinarian for help
Also, be careful with home-cooked food items
Above all, keep pet poison center number ready with you- 855- 764- 7661
Pet Poison Control Center
A service of SafetyCall International, PLLC.
3600 American Boulevard W., Suite 725
Bloomington
MN 55431
America
Overall, never rush with your own ideas and it is always best to contact a vet whenever you are in doubt.