Dog Pregnancy Calculator And Timeline
Like tornadoes, bushfires, and floods, hurricanes can be frightening and miserable to be caught unaware.
These tips are useful for all types of a natural disaster.
With some serious preparation and forethought,  you can make the experience much more manageable and simple.
Pay close attention to all the tips and ideas and make this hurricane season a rather manageable one.
Stay Safe! Life is Precious!
Hurricane Season Safety Tips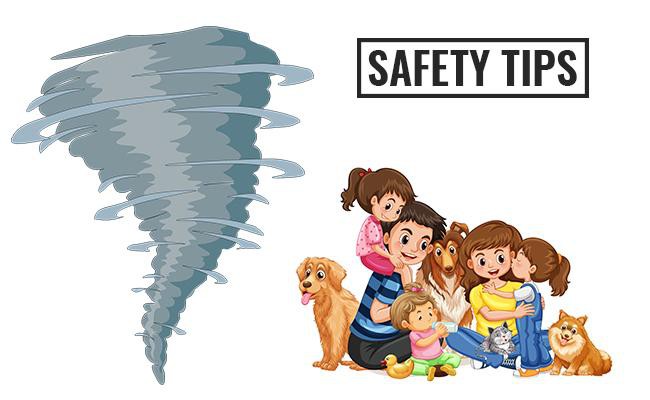 Hurricane season starts in June every year. And this year 2019 is no different. There is ample time to prepare your pets and your family for a looming disaster than now.
In the last few years, America was severely battered by various large storms. Some of the popular hurricanes include hurricane Michael, Florence, Irma, Harvey, and Maria resulting in severe loss of life and damage.
Take a look at these simple hurricane season tips.
How to Prepare for an Approaching Hurricane?
Hurricanes are severe storms that develop over the ocean. They move toward land. Some of the common threats from hurricanes include tornadoes, rip currents, inland flooding, coastal flooding, storm surge, heavy rainfall, and high winds.
Hurricanes can severely damage roads, homes, and buildings. They can also disrupt gas, water, and power supply to a great extent.
These hurricanes can pollute drinking water, disrupt transportation, or kill and injure humans.
Hurricanes cause health problems from wind-borne debris, wind, or drowning. The impact of these systems can extend to hundreds and hundreds of miles inland.
When does the hurricane season start in the United States?
The Pacific season always begins on May 15 and ends on November 30 while the Atlantic season starts from June 1 and closes on November 30.
The hurricanes can strike in any region in the Pacific or the Atlantic oceans.
They are most active in September in both the seasons.
How to prepare for a hurricane?
There are three stages to prepare for a hurricane. These include –
1. Now or Present
Read local warnings and alerts. Track local weather reports and news
Make a plan to evacuate within a short notice. Test your emergency communication system.
Store emergency supplies
Safeguard your property by reviewing insurance policies. Install and check sewer backflow valves
Collect and store important records, medical, financial, and legal documents
2. During or Survival Phase
Pay attention to instructions from local authorities
If recommended to evacuate, take your "go-bag" and leave immediately
Keep your pets away from windows
Call 9-1-1 for any help
3. Post-Hurricane
Avoid entering battered buildings
Avoid using flooded roads or pavements
Feed your pet with clean drinking water, say no tap water
Emergency Planning For Both You And Your Pet
Take a close look at these simple yet effective hurricane safety tips for pets and for you too.
1. Make a Clear Plan
Stay calm and be prepared. Plan a course of action. Keep supplies safely stored in a dry, clean place. Keep torchlights and candles in the main room for easy access.
In case of a power failure, you should be in a position to safeguard your place.
2. Never Oscillate
No matter whatever decisions you take, please stick to it. If you try something else, this could put your pet in grave danger.
If you plan to evacuate, then do so without wasting any time. No beating around the bush. Changing your plans in the last minute often causes unnecessary problems.
3. Where is your emergency kit?
Take enough water for at least 3 days. Some of the other items you should carry include an extra leash, waterproof containers, medicine, plastic bags, puppy pads, litter box, and a carrier.
Microchip and tags are useful to find a lost dog.
4. Stay Alert
If you are staying at home, always keep your pet on a leash or in a carrier. You cannot predict the exact time of evacuation in advance if at all it happens.
Keep your pet in a safe place at all times.
5. Monitor News Reports
Monitor weather reports closely. If you are instructed to evacuate, do not hesitate at the very first warning itself. Make yourself well informed of directions to the nearby shelter where pets are allowed.
6. Never Ever Panic
Whether you leave early, stay put, or whatever be the situation, please stay calm and composed. Pets are good at sensing human emotions and your negative emotion can make them jittery or anxious.
Avoid it.
Never forget to speak calming words to your pet before, during, and after the hurricane.
When a disaster happens, being ready to face any eventuality is the ideal way to safeguard your family.
Some of the important items to have in your emergency kit for pets include
1. Water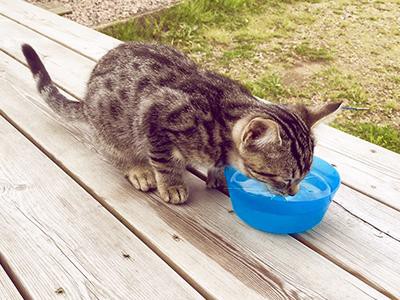 Clean water is a precious commodity during bad weather conditions.  When collecting water, do not overlook your pet.
The more water you can store is better for your family.  Collect and safely store a week's supply of water.
2. Pet Food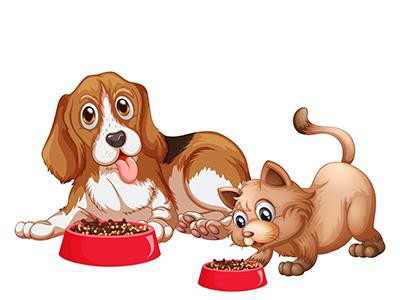 Stock up on wet or canned food. Canned foods have a long shelf life. Most importantly your pet will drink less water if they consume enough canned food.
Secure a can opener.
3. Medicines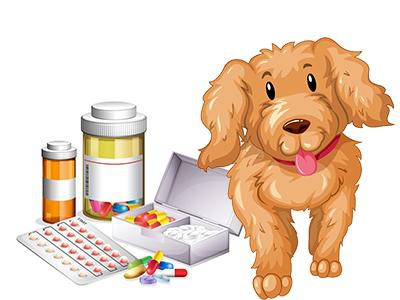 Some pets need timely medications to stay healthy. Talk to your vet well in advance to secure emergency stock of pet medicines.
4. Documents of Ownership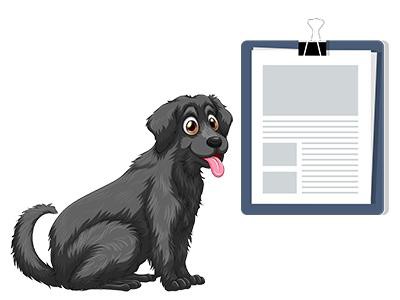 Secure all your pet ownership documents in a sealed cover for future reference. If your family plans to leave a shelter, keeping the documents handy will be useful.
5. Vaccination Records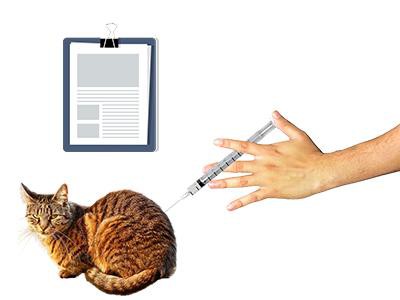 Some boarding facilities or animal clinics will offer help but require vaccination details. Take a copy of the latest vaccination record for use.
6. An Emergency Contact List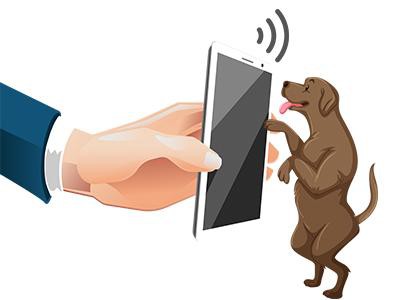 Prepare an emergency contact list so that you do not waste time when the disaster strikes. Learning where to go well in advance will ensure that your dog is safe even before the disaster strikes.
7. Pet carriers and leashes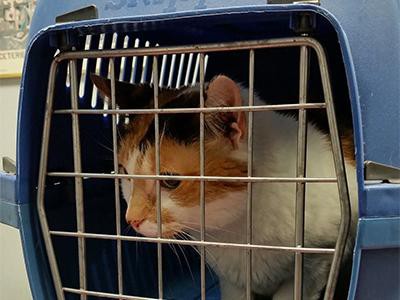 During bad weather conditions, your pet may struggle hard to break free to find a safe place to hide. The post-hurricane scenario will be filled with contaminated groundwater, fallen debris, or downed power lines.
Taking all these things into consideration, we recommend carriers and leashes to prevent your pet from venturing into unsafe zones.
8. ID Tags
Consider installing a form of pet identification. Never forget to update your contact information.
So, your pets need ID tags to increase your chances of finding your furry friends. But what should you put on their ID tags? Consider putting the following information: 
Your Pet's Name:

This info is a must to add in a pet's ID tag.

Your Contact Number:

You may include two or more contact numbers to increase your chance of finding you dog or cat in the event it went missing.

Your City:

Including your entire address is highly recommended.

 

Medical Needs:

Adding this information adds a sense of urgency to the finder of your pet.

 

Microchip Information:

You may include a line stating your pet is microchipped to increase your chances of recovering your furry friend.

A Reward: You can offer a reward to encourage the finder to return your pet.
9. First Aid Kit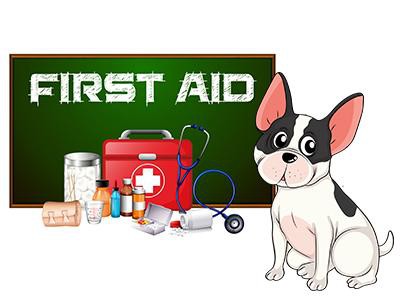 Along with the contact number of the nearest animal clinic, prepare a pet emergency kit. Hydrogen peroxide, an oral syringe, or a bandage is expected to be present in your kit.
10. Pet Comforts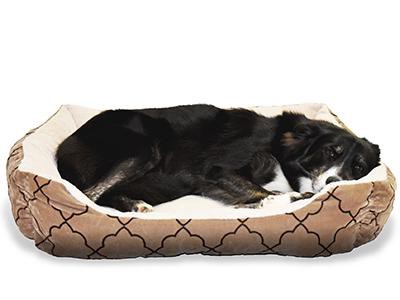 Your pet will be restricted to a small space. Have an extra cat litter, a favorite toy, towels, clean blankets, or a pet bed. In addition, dog coats help your furry friends stay warm and protected during natural disasters. 
Your dog, cat, or any other pet may feel some degree of anxiety during a calamity. Soothing your pet will reduce their anxiety and restlessness.

You can safeguard your pets during a hurricane by preparing everything you need. With careful planning, you and your pet can respond promptly and avoid panic. Ensure you prioritize your pet's health and safety during a calamity by applying the tips we shared above.